Introducing...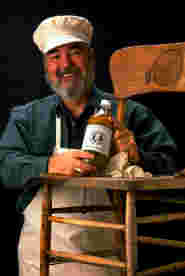 Hello,
My name is John Kramer and I'd like to introduce you to the traditional, natural product that I make: Kramerís Best Antique Improver. Made in the USA of 14 precious natural materials, it is uniquely effective. Developed from my work as a traditional woodworker and conservator, and my collection of ancient secrets, lore, receipts, journals, etc., it is the best I can make. It is the best I've ever used. It is as the best of the past.
Use my Antique Improver to clean, restore and preserve both the traditional finish, and the wood, of the wonderful old pieces; as a complete finish for stripped or new wood; or for the multitude of other uses described on this site and detailed in my 16-page "Book of Instructions & Suggested Uses."
Kramerís Best Antique Improver is the easiest, most effective product you'll ever use. Used as a furniture polish, most find it necessary only once or twice a year. Wipe it on, wipe it off and it looks better; days, weeks and months later it looks better still. And does it ever make a difference. The color, the depth, the richness, the full beauty of the wood is enhancedóyou will be amazed. And it just keeps getting better with age. You've never seen wood look so good. It is not like any other product you've ever usedóthis one really works.
My Antique Improver is based on traditional materials and techniques which have always been superioróbut far too costly for mass production, where cheaper is the measure of better. For thirty thousand years or so, wood has been the primary material of civilization. It has only been in the past century we have used it less, and in this new century less more. As we enter the last ages of the working of wood, what we now have left is about all there will ever be. Isn't it time to really start protecting it properly? The antiques, heirlooms and artifacts we all cherish represent not only the physical embodiment of our ancestors real blood, sweat and tears, but they are the tangible historic record. They are important to the future.
Preserving the past is a purpose I address with my products. I welcome this new internet technology which provides a way for me to reach many people. Modern mass marketing techniques and advertising are not possible for me. My product can only be made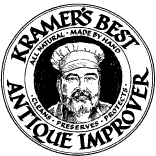 from hand gathered and processed natural materials. It can never be made in the quantities necessary to fuel the mass market, nor at the prices necessary to support multi-million-dollar advertising campaigns. It is a very different product and requires different marketing. And though we can't supply the mass market, we can make enough to serve our retail customers and supply a stable dealer network. I am committed to making only the best products possibleónot the most products possible.
I invite you to spend some time here on my web site. We have tried to include information that will help you understand what Kramerís Best Antique Improver and other Kramerís Best products represent, and how you can use them to benefit. The What Does It Do? page goes into detail about the various ways the products can be used, how to use them, and also shows "Before and After" photos of their use. You can read some of the many kind messages we receive from our very satisfied customers on the Letters page. If you are a dealer interested in purchasing for resale, please visit the Dealer Information & Ordering page. You will find that our Dealer Program is very uncomplicated and requires only a modest investment.
Our goal is for your visit here to be enjoyable as well as informative. We have tried to make this site as easy to use as possible. Just use the arrows to move through the pages progressively, go to the Table of Contents to find your particular interest, or "click" on the page of your choice using the links at the bottom of each page.
We invite you to contact us with any comments or suggestions about this site or about Kramerís Best products. Your input is important to us. And, of course, we are always glad to help with any questions you might have.
If you do not currently know of a dealer where you can purchase our products, contact us and we will try to help you locate one in your area. Or, if that is not convenient, you may place an order directly with us.
We look forward to hearing from you.
KRAMER PRODUCTS, INC.
John T. Kramer, maker of Kramer's Best Antique Improver
P.O. Box 8715, Sugar Creek, MO 64054
816-252-9512 / Fax 816-252-9121
E-mail: see Contact Us
© 2003 - 2017, Kramer Products, Inc.