M ORE K RAMER's D EALER L OCATIONS
"Click" the page below to view a complete listing of more KRAMER'S BEST Dealers.
These Dealers may not carry all of the products or sizes and
what they currently have in stock may vary.
You must ALWAYS PHONE FIRST to confirm availability.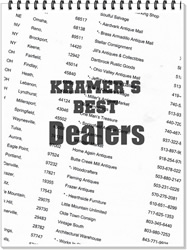 ---
We ship only to the Continental United States. We do not ship to Canada.
There are two Kramer's dealers in Canada. If they are not convenient for you,
you might contact them to see if they will ship to you.

They are:
Heritage House Interiors, 4924 Chisholm Street, Delta, B.C., 604-946-2455
Antique Addict, #12 Roberts St., Ladysmith, BC, CAN V9G 1A3, 250-245-6533
---