KRAMER'S BEST ANTIQUE IMPROVER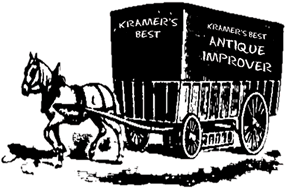 Find a dealer in your area...

The directory below lists our "Master Dealers". These are established dealers who have made a commitment to maintain a dependable supply of all Kramer's Best products.

(Always phone first to double-check current availability.)
M ASTER D EALER R ETAIL L OCATIONS
We ship only to the Continental United States. We do not ship to Canada. There are two Kramer's dealers in Canada.
If they are not convenient for you, you might contact them to see if they will ship to you.

They are:
Heritage House Interiors, 4924 Chisholm Street, Delta, B.C., 604-946-2455
Antique Addict, #12 Roberts St., Ladysmith, BC, CAN V9G 1A3, 250-245-6533
---





NOTICE:
Due to a conflict between what we were trying to accomplish with this list, and what the computer was willing to agree to, we are going to have to figure out another way to share information about our current dealers.
In the meantime, if you are looking for a Kramer's Best Dealer in your area, contact us by phone or email and we will try to help.
Thanks for your interest.

---



KRAMER PRODUCTS, INC.
John T. Kramer, maker of Kramer's Best Antique Improver
P.O. Box 8715, Sugar Creek, MO 64054
816-252-9512 / Fax 816-252-9121
E-mail: see Contact Us
© 2003 - 2017, Kramer Products, Inc.