Hello,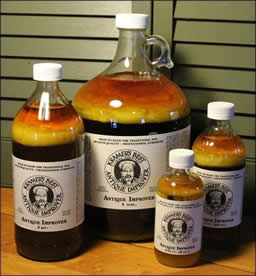 My name is John Kramer and I'd like to introduce you to the product I make: Kramer's Best Antique Improver. Made in the USA of traditional, natural materials, based on recipes proven by hundreds of years of use by our ancestors, it is the best of the past.
Use my Antique Improver to clean, restore, preserve and protect both the traditional finish, and the wood, of wonderful old pieces; as a complete finish for stripped or new wood; or for the multitude of other uses described on this site and detailed in my 16-page "Book of Instructions & Suggested Uses."
I invite you to spend some time here on our web site. We have tried to include information to help you understand what Kramer's Best Antique Improver and other Kramer's Best products represent, and how you can use them to benefit. The What Does It Do? page goes into detail about the various ways the products can be used, how to use them, and also shows "Before and After" photos of their use. Read some of the many kind messages we receive from our very satisfied customers on the Letters page. If you are a dealer interested in purchasing for resale, please visit the Dealer Information & Ordering page. You will find that our Dealer Program is uncomplicated and requires only a modest investment.
We invite you to contact us with comments or questions about Kramer's Best products. Your input is important to us, and we are always happy to help with questions you might have.
Call to locate a dealer in your area, or order directly from us.
We look forward to hearing from you.
KRAMER PRODUCTS, INC.
John T. Kramer, maker of Kramer's Best Antique Improver
P.O. Box 8715, Sugar Creek, MO 64054
816-252-9512 / email: see Contact Us
© 2003 - 2023, Kramer Products, Inc.