KRAMER'S
Professional Line of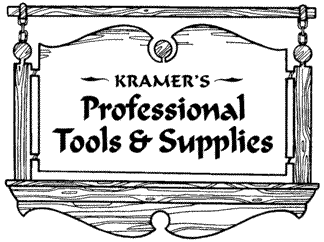 Tools and Supplies

The Kramer's line of "Professional Tools & Supplies" includes items that are appropriate for use on manyrestoration and woodworking projects, and which are compatible and beneficial for use with Kramer's products.
The home craftsman who is striving for professional results may find these less-commonly-used items difficult to obtain conveniently in small quantities — or of the quality that is necessary.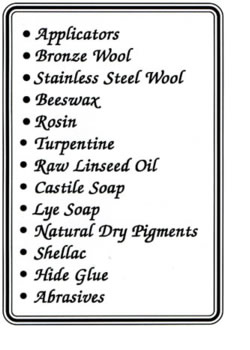 I have put extensive time and effort into finding and establishing workable sources of supply in order to be able to offer a line of the caliber I feel is necessary.
Since we are not purchasing in huge quantities, our costs do not allow "WalMart" pricing. We offer these items for your convenience — if you find them elsewhere at lower cost, and you are certain that the quality is comparable, then by all means, use that source. My goal is to help you have convenient access to tools necessary to achieve success in your projects.
Some items include brief instructions, however, some basic knowledge and expertise in working with traditional methods and materials is assumed.